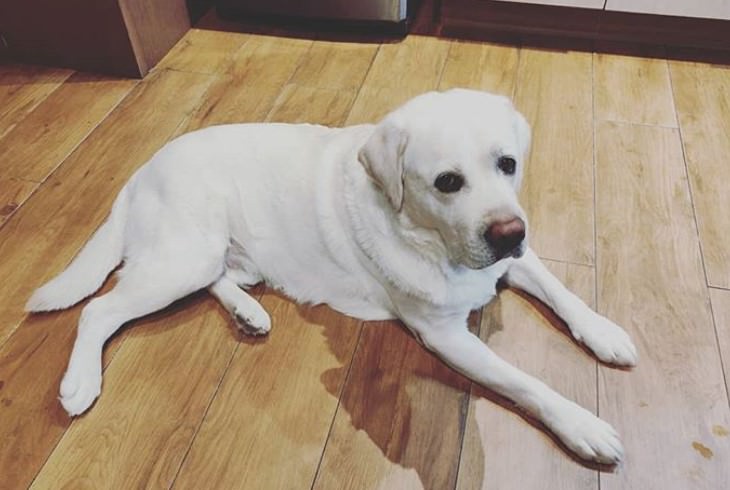 Jimmy – "supplanter" in Hebrew.
Cappy – meaning captain.
Kingsley – "from the king's meadow" in English.
Manny – Hebrew for "God is with us."
Kirby – "dark son" in Gaelic.
Rudy – "famed wolf" in German. Very apt for a dog.
Harvey – from Old English meaning "blazing" or "iron."
Kerry – is the name given to the "descendants of Ciar" in Ireland.
Murray – "seafarer" in Irish Muireb.
Cody – means "helper." A very apt name for a working dog.
Kenny – means "handsome" in Scottish.
Finnley – in Irish it means "fair warrior."
Casey – Gaelic meaning "watchful" or "vigilant."
Roy – a Normans name that means "king."
Lucky – you were so lucky to find this dog.
Henry – this is actually Prince Harry's real name. It means "hero" in German.
Huxley – Old English meaning "from Hugh's meadow."
Anthony – "highly praiseworthy" in Old English.
Jay – is an English name meaning "to rejoice."
Clancy – has Irish origins. It means "red-haired soldier's son" or "ruddy warrior." Great choice for dogs with red coats.
Sidney – means "wide island" in English.
Kelly – "bright-headed" in Irish.
Finnegan – "little fair one" in Irish.
Kennedy – is Anglicized Gaelic that means "helmeted chief."
Ricky – "powerful, strong ruler" in English.
Sully – in English it means "south meadow."
Gary – "hard or bold spear" in English.
Freddy – "peaceful ruler" in German.
Sammy – "sun child" in Hebrew.
Harry – means "estate ruler" in German. Or perhaps after the dashing Prince Harry of the UK.
Harley – "meadow" in English.
Ray – has Norman origins, meaning "king".
Toby – this name comes from Tobias which in Hebrew means "God is Yahweh."
Geoffrey – is derived from one of the three old German names meaning district, "traveler, or peaceful pledge."
Tyler – an occupational name for a tile maker or brick layer in English.
Ozzy – English for "divine power."
Jeremy – in Hebrew it means "exalted of the Lord."
Danny – in Scottish it means "God is a judge."
Bradley – in Old English it means "broad clearing in the wood."
Shivaay – "Lord Shiva" in Indian.
Emery – does not sound like a boy's name but means "brave or powerful" in German.
Marley – this is a good choice if you admire singer Bob Marley. It means "pleasant wood" in Old English.
Benny – "son of my right hand" in Hebrew.
Brody – from Old English words aelf "elf" and raed "counsel."
Barry – "fair-haired" in Irish. Nice name for yellow or tan colored dogs.
Berkeley – an Old English for birch leaf.
Troy – an Irish name meaning "soldier."
Quincy – this is a Latin baby name that means "five." If you get the 5th pup in a litter, you can give him this name.
Chevy – in French, it means "horseman or knight."
Terry – has old Germanic origins, meaning "powerful or ruler of the people."
Leroy – has French origins and sounds old-fashioned. However, it means "the king."
Coby – from Hebrew, meaning "God will protect."
Ramsay – has a Scottish origin, meaning, "ram's island." Does your dog have a temper?
Trey – has English origins and means "three." Perhaps he is the 3rd puppy in a litter?
Randy – "house wolf, protector" in English. Another worthy name for a beloved pet.
Gregory – "watchful and alert."
Grey – "grey haired" in English.
Remy – Latin for "oar."
Perry – from Middle English meaning "pear tree."
Humphrey – is another old-fashioned and old sounding name. However, it means "peaceful warrior" with Normanic and Germanic origins.
Everly – has Saxon roots meaning "boar field."
Percy – of normandy origin, from Greek Perseus
Dusty – perhaps he likes to roll around in the dust? Also means "brave soldier" in English.
Rocky – after the boxer played by Sylvester Stallone in the movie with the same title.
Diggory – means "astray" in Old English. Can also be after the Hufflepuff heartthrob in Harry Potter, Cedric Diggory.
Coy – French for "calm or quiet."
Stanley – means "dweller near a stony clearing" in Old English.
Jerry – "may Jehova be exalted" in Hebrew.
Brady – means "slow" in Greek, so perhaps the Gaelic meaning, "spirited," is better.
Tyrone – "king" in Greek.
Guy – Anglicization of a Hebrew name that means "ravine."
Montgomery – has Norman origins and means "manpower."
Barnaby – an old-fashioned name that means "son of comfort" in English.
Berkley – "birch tree meadow" in English and Scottish.
Grady – "noble" in Gaelic.
Ziggy – can be short for Sigmund, means "victorious defender" in German.
Bailey – popular dog's name meaning "berry clearing" or "bailiff."
Rodney – "island near the clearing" in English.
Matty – in Hebrew it means "gift from God."
Barney – "strong as a bear" in English. Great choice for strong or large dogs.
Teddy – "wealthy guardian" in English.
Zachary – "remembered by God" in Hebrew.
Oakley – "from the oak tree" in English.
Murphy – means "potato." A good choice if you have one of those pooches who park themselves on your couch the whole day.
Joey – surprisingly has a Hebrew origin. It means "may Jehova increase."
Timothy – "honoring God" in Greek.
Bobby – in German it means "bright or shining." Ideal for yellow-colored dogs.
Darcy – is a French surname that means "person from Arcy." However, if you're a Pride and Prejudice fan, perhaps you can call your dog Mr. Darcy".
Marty – a pet name for Mars, also known as the Roman God of War.
Mickey – Hebrew for "gift of God." All dogs are gifts. Don't forget to check out our article on Disney dog names as well.
Buddy – means a friend, a common dog name.